Julius had his first outing recently. To a dinner gathering at a friend's place. Being at an unfamiliar surrounding, Julius was rather hesistant and shy....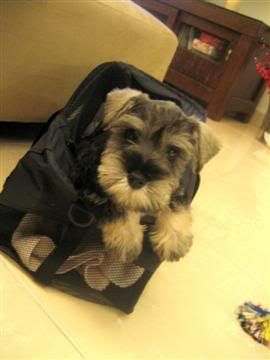 Checking out the unfamiliar territory from the safety of his carrier bag.
Especially when he was introduced to a new friend who was so much bigger in size than him. Meet his new friend and potential future girlfriend -
Pebbles
....
Aiyo, stop checking me out like that. I am shy la....
Later, his brother,
Caesar
came too. What a
sweet reunion
for the 2 brothers, except
er...,
they took no time in reverting back to their playful fighting mode.
Pebbles
didn't want to miss out the action as well so she self-appointed herself as the
referee
.
Fu-yoh....! The FIGHT CLUB!